My Squash career has been much more satisfying. I had heard of squash whilst in a pub at Rugeley, in the early 70's, but it was not until I moved to Diseworth and Ratcliffe in 1974 that, with a colleague that I first met at Rugeley, then living down the street, that I took to a squash court in April 1975. The gentleman that introduced us played and gave a us a thrashing. But it stuck with my how appealing the game was. After a couple of runs out to Bingham we found a Leisure Centre at Chilwell, Long Eaton. We stayed there until September 77, after Kegworth Squash Club opened in the early summer. I went on to reach the top league but had to retire for 2 years with a back injury in 1984. At the start of the 1986 Winter season I made a comeback playing in the Nottinghamshire Leagues, though the back problem has never gone fully away. Despite this my success has been satisfying and I have met lifelong friends and travelled the world.
Taking a beating at Badminton by Professionals at Stone in a Staffordshire league Handicap Cup match, playing for the children's primary school club in Brereton, in the late 60's early 70's – I seem to remember that we did not need many points playing up to 15 to win a game – the only time we managed to get 3 was in the men's doubles when we got 3 & 4. I vowed after that, never to get too serious about individual sport again – then I got into squash. I never lost in the 2 1/2 years to my squash birth partner, and at Kegworth, where there were divisions viz Prem1er 1, 2 x Premier 2's and 3 x Premier 3's and 24 x 4 Divisions, if I remember correctly. When I joined in September 77 I went 19,10,2 . It then took a few years to get to Premier 1 where I was when the club closed in February 1999. In the late 70's I got into team squash playing for Kegworth in the Derby league – many of the team colleagues of that era I have lost touch with. In 1984 I suffered a serious back problem, playing in a club over 40's cub final which put me out of squash for 2 years. They say once a bad back – always a bad back – I can vouch for that – after that my cricket ability was never the same and even today, a slight twist is agony. Despite that, and a few occasions when I have had to step back – I have had an amazing run. In September 1986 I made a comeback playing for Kegworth in the Notts league under Captain Des Kershaw. I was at 2 behind a young sprog from Malta whose name escapes me. In early 87 I responded to a notice to enter the Leicestershire Veterans (O45) County championship. I was drawn in the 1st round against the current champion Reg Fry who had beaten the Leicestershire legend Ian Turley the year before. Reg was a toy salesman and I know he had been on the road all day so perhaps he was not at his best. But I went on to win that and the next 5 to overall Ian Turley's record of 5 wins. By this time I was 50 and coming up against the youngsters and 3 more tournaments past before I was again able to make a mark winning the next 5, for a total of 11 wins out of 14 seasons. In the last veterans Tournament I played Tony Batterby for the 5th consecutive time. The first occasion he had not had a go about some dispute or other. And he won. I have to thank my long standing Nottinghamshire comrade and friend Dave Hardern who convinced me to enter the national scene in 1997. I remember easing through the 1st rounds of both Closed and Open to come against Warwickshire's Stan Biffin – A Pharmacist, but also a fell runner. The 1st game was a coast to the 1st 7 points but then it fell apart – in the Open I went step further and went 2 games up, again to fall apart. It was Stan that taught me you cannot expect to go National and not put in some pre effort training. I got him again the following year and this time won 3-1. I never lost to him again. I think this must have been the year 1998 that I reached both the Open and Closed semi-finals which resulted in my first selection for England for the Men's O55 team in Aberdeen. Unfortunately Hampshire's John Perrot joined the age group the following season and I got him 3 times in succession gaining only 6 points in total. One of these occasions was the World Championship in Sheffield in 1999. That was very disappointing as 2 Leicestershire stalwarts John Smith and Don Bennett, county team colleagues, turned up to watch. I also remember one of the occasions Perrot had slept in his van with his dog. This tournament though had its highlights as I not only played the legend Jonah Barrington – I beat him in the previous round. It was because of Perrott that I had to wait until I was 60 before I played for England again. A couple of years later John P was to disappear from the scene otherwise my success rate would not have been as high. On one closed event some years later I was scheduled to play him in the quarter final of the closed. I had stayed overnight across the Pennines with my brother. Normally there would not have been a problem getting to Manchester in time, but a lorry had overturned on route in Tintwistle. Mr Perrot was not best pleased that the game had been rescheduled and for the first time I got in front and when the opportunity came in the 3rd to win, I took it. In 2002 I won my first National title a O6O. I did get to two O60 British open finals after that but lost both I think to JP. On the one occasion in Nottingham the prizes were lovely small dishes which my wife took a fancy too. John said his would end in the draw with all the others and he was happy to donate to my wife so we have winners and runners up trophies for that event.
I had to wait until I was 65 got the next national title, though I had played all 5 seasons at 60 for England – 4 being as captain. The following year I came against my Yorkshire nemesis Mike Clemson who had had a successful season beating Clive Stiff and Mo Khalifa to name 2. I did though go on to win 2 more closed O65 titles and on to 70 and 75 now pushing 80 – I go on.
As a member of the Veterans Club of Great Britain I have toured South Africa twice, Adeje, Rome, Dublin and more recently organised tours to York.
World championships in Sheffield,Mebourne, Capetown,Christchurch,Cologne, Birmingham, Hong Kong, Johannesburg, Charlottesville.
Should have been in Wroclaw as I write this – does mean I will be in the next agegroup next year when it is rescheduled. Updated May 2021 – now August 2022
World Masters Champion:
Capetown 2006, Birmingham 2012, Hong Cong 2014, Johannesburg 2016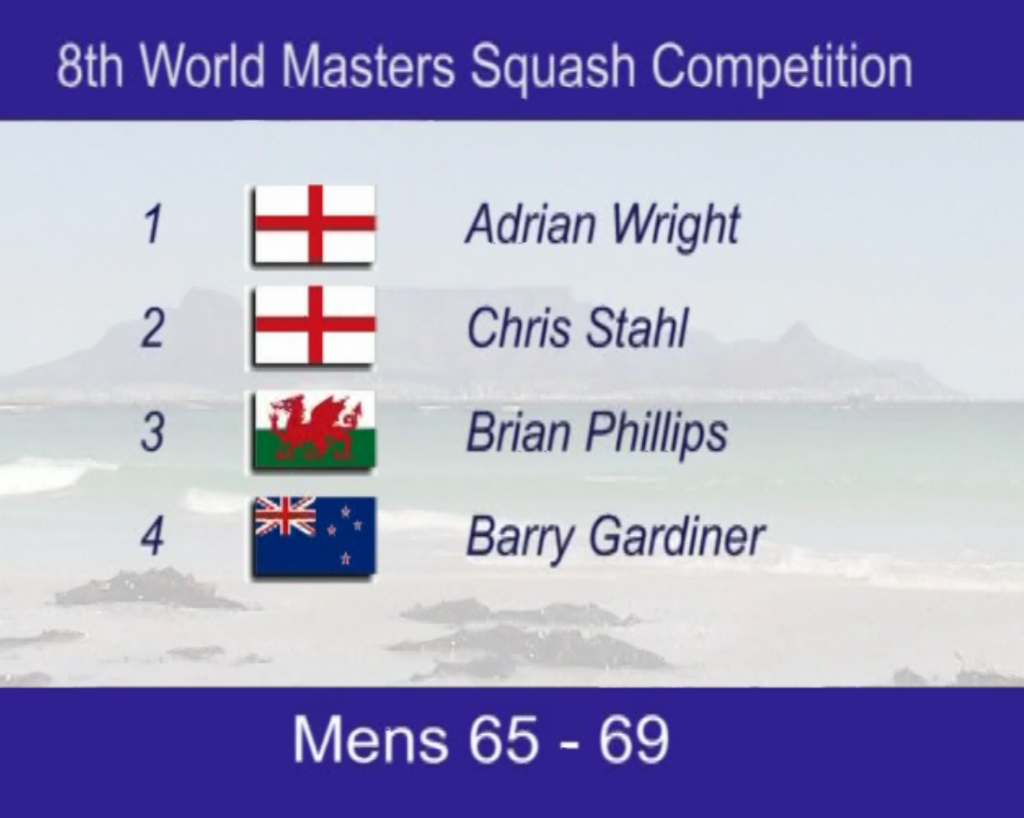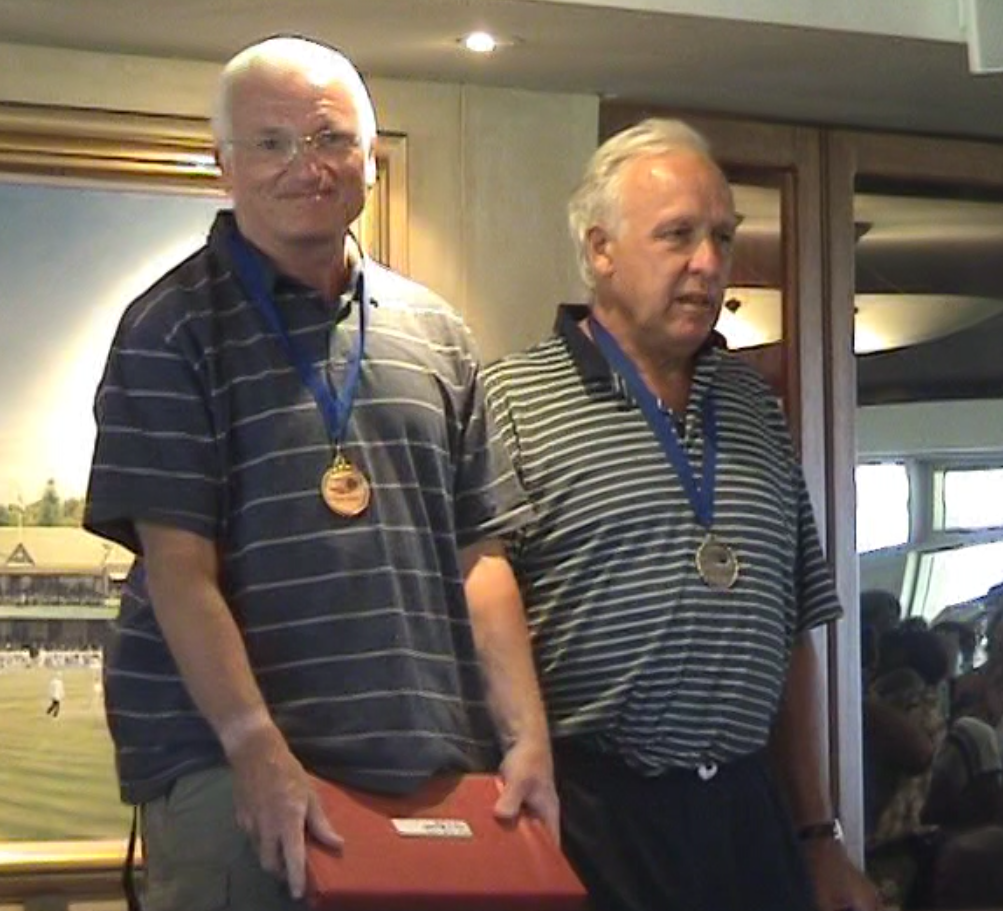 14 Nationnal Titles:
British closed Champion: O60 2002, O65 2007/8/10, O70 2012/14/16, O75 2017,2019
British Open Champion: O65 2006,2009, O70 2012/13 O75 2017
Leading Regional Event winner with 36 Champion Titles since 2004
Claim to fame World masters 1999 HERE